Blogging has become quite common nowadays. There are many bloggers who are earning a very good amount of money from Blogging. Professional bloggers have all the skills required to make money from blogging but if you are a newbie then you need the correct guidance. It becomes very difficult for newbie bloggers to sustain in this competitive field. From the past 3-4 years, Blogging has become quite competitive. A lot of teenagers are getting attracted towards Blogging and this is somewhere a negative point for bloggers and freelancers.
There are many so-called Blogging Platforms who boasts of helping the bloggers but there are very few who genuinely care for helping them out. Today, in this article we will talk about one such blogging Platform which is concerned about the bloggers and especially the newbie blogger.s IndiBlogHub is one of the most popular Indian Blogging Platform. It has gained a lot of popularity among the Indian bloggers and Influencers in past 8-10 months and the credit for it goes to Rahul Gupta's hard work and dedication.
More About IndiBlogHub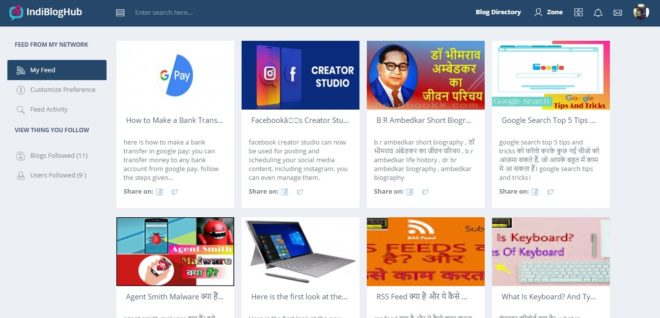 IndiBlogHub is basically an Indian Blogging Platform. Rahul Gupta is the founder of IndiBlogHub. IndiBlogHub was started back in 2017 with an aim to help out bloggers and influencers. Rahul realized that bloggers and influencers use Facebook and other social media to promote their blog, provide digital services to clients and for other stuff but there was no such common platform where they can manage everything. So, he planned to make a platform on which bloggers can share their content to gain more traffic, make more money by doing paid guest posts or by providing digital services like content writing, SEO, SMO, graphic designing for blogs, etc. Earlier the name of this platform was Skillinfinity but now its name has been changed to IndiBlogHub. Well, IndiBlogHub sounds a much better name for Bloggers and influencers, no? So, this was a brief overview about this superb platform. Now let us find out what all benefits you can gain if you join this platform.
For  Bloggers and Social Media Influencers
If you are a blogger or a social media influencer then you must join this platform. There are various benefits of joining IndiBlogHub. Let us check them one by one.
1. More Traffic to your Blog
When you join IndiBlogHub then you open up more ways to bring more traffic to your blog. IndiBlogHub gives you the feature to share your blog posts directly through your IndiBlogHub profile. IndiBlogHub has a lot of readers apart from just brands, bloggers and influencers. IndiBlogHub allows you to share two posts for a single blog per day. To share your post, you just need to copy the URL of your blog post and share it through the share button on your IndiBlogHub profile. When you share the URL, it automatically takes the title from your blog post. You can select the category, add a description to your blog post, add suitable tags to it and click on share.
2. Guest Posting Opportunities To Boost Your Blog Rankings
IndiBlogHub has around 1000 bloggers in various niche. Guest Blogging is one of the best ways to increase the rankings of your blog. A do-follow link from a high authority blog can help you to rank your keywords in Google SERPs. There are many bloggers in a single niche. You can find some good blogs of your niche and can start making some high-quality backlinks to your blog. IndiblogHub saves your time as you don't need to waste time on FB groups to search for blogs which allow guest posts on them.
3. Earn from Sponsored posts/Brand promotions
There are a lot of brands which keep looking for the bloggers and social media influencers to promote their blog. Brands know that this is the best and cheapest mode of marketing of their products and services. Some brands pay a very good amount of money for a paid promotion. You just have to apply for the campaign whenever a brand runs a campaign on IndiBlogHub. The campaign manager will contact you and share more details. The best thing for bloggers is that there is no mediator in between and the platform does not charge any commission for collaborations. Your earnings and number of paid collaborations will be visible to you on your dashboard.
4. Connect with Top Bloggers of your niche
IndiBlogHub gives you the option to connect with the best bloggers of the industry. If you are a tech blogger then you can connect with other tech bloggers and can learn the art of blogging from them. Blogging is all about networking. The greater the network you have, the more options will open up for you. You can directly message the other bloggers of your niche. You can connect and also check their social media profiles.
For Brands and startups
If you are a brand or a startup then this platform is must for you. You can register as a brand or startup on this platform and can get some good blogs for your advertising campaign. There are a lot of brands and startups which have gained a lot of benefit from this platform. You can increase the reach of your products or service. The more exposure you get more will be the profit in your business.
Connect with the Top Blogs
At IndiBlogHub you can connect with the best blogs of the industry and can run your ad campaign. You can run a campaign for a number of days and can set a particular price for that. In most of the cases, bloggers are ready to write the content on their own. All the top brands which are into online business have used the guest blogging method to take their business to the next level.
Get more exposure for your products or services
Get more eyes to your product or service through IndiBlogHub campaigns. No need to waste your time by pitching bloggers, searching for blogs on social media. There are thousands of blogs on this platform and you can run a campaign or directly contact with the bloggers or influencers.
How To Register As a Blogger on IndiBlogHub
To Register on IndiBloghub, visit www.indibloghub.com and sign up for a new blog. To create a new account on IndiBlogHub, you just have to add your basic details. When you share your basic details, you will be asked to share your blog title and its URL. An email will be sent to you by the admin. When your blog is accepted you will be notified with the help of an email. After that, your profile will be created. To fully activate your account you need to add the badge code to your blog. You can add multiple blogs to your profile. For each blog, you will have to verify separately. The best thing about IndiBlogHub is its dashboard. On the dashboard, you can check the DA, PA, Alexa and other metrics of your blog. You can also check the biggest Indian Blog directory on IndiBlogHub Platform.
So, this was all about the IndiBlogHub Platform. If you are a brand or a blogger, then you must join this platform. We have already listed the various benefits of joining this platform. If you still have any queries, you can ask through the comments section below.